2019 CURBOROUGH SPRINT CHAMPIONSHIP, supported by  PJS Sports Cars and Paul Green Jewellers .
2019  SEASON  CHAMPIONSHIP APRIL UPDATE
 The Curborough Championship, sponsored again this year by PJS Sports Cars & Paul Green Jewellers, kicks off this weekend with the usual April S&HMC event, and is already just about a full entry.  With 46 of the entries being registered for the Championship, it is a great turn out from the 59 registered contenders at the point of this going to press. This shows the importance of early entry into the events, as many will get oversubscribed.  
Some of the entrants for this weekends' event are previous Championship entrants that have not registered this year, so if you have overlooked sending the Championship registration off, ( in all the excitement!),  please do so before Sunday to score points!   
Many of the Classes are looking very competitive, especially Sa, Sc, 1a, 2La, 2b, and 3b, and we have 5 Championship previous years' outright Champions entered!
Once again we have quite a few novices entered, approaching double figures, showing the Championship is continuing with it's original intention of supporting grass root sprinting.  
Just the usual reminder, especially to new novices, that registration for the Championship does not automatically give you an entry into each round. Most of the Clubs do not cash entry cheques until the event entry closing dates, so unless you chose the online payment that some now offer, entering them all early does not mean a sudden attack on your bank account!
  Here's to another successful year in 2019,   
                 Steve Wood
Curborough Championship
Curborough Sprint Championship 2019
Supported by PJS Sports Cars and Paul Green Jewellers
NOTE: Last years entrants will receive Regulations and Registration form in the post.
2019 Regs and Entry Form now CONFIRMED and PDF format documents can be obtained by clicking the links on this page.
Championship Permit Number is CH2019/SO12.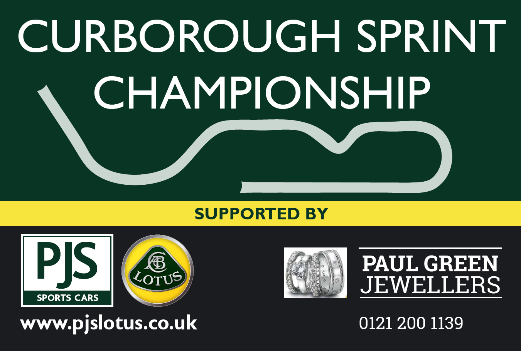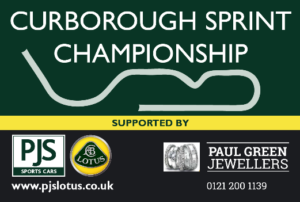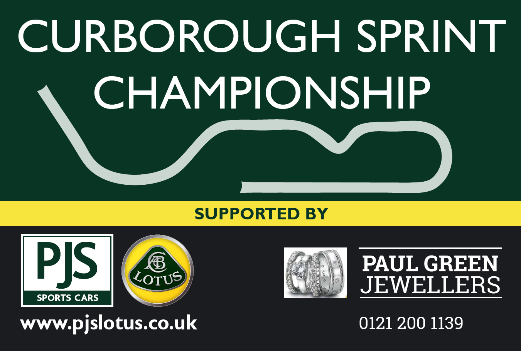 The BMMC May event was, as usual, the second round of the Championship, and attracted 40 Championship entrants. Even with a few short showers during the day, everyone got the opportunity of at least one dry timed run in the afternoon.
A Class Sa of 9 MGZR's got the meeting started with a win for Craig Tock, with Graham Harvey second and your scribe third, all within 0.24sec and all 3 well under the existing class record! 4th, 5th and 6th, were Tim Burrill, Jack Twomey and Sarah Holland respectively, and again all close and within 0.23sec! David Owen in 7th, picked up the fastest novice award.
Steve Barrow took the two car Sb class in his Twingo Sport, from Andrew Ward's BMW Mini.
As usual, a great entry in Class Sc produced a really good contest with the Clio of Mark Williams taking the win by 0.6sec from Paul Glendenning's similar machine. Neal Bateman was third in his Fiesta ST.
Sd went to the 718 Porsche Boxster of David Tilley from Warwick Bourton's Focus ST3.
A close 1a, saw the win go to Julian Fishwick's Mini, by 0.24sec from Keith Waters' Metro.
The road going Lotus class, 2La, went to Martin Roberts, from David Whitely, both in Elise's.
Oliver Swadkin stormed to a comfortable win in his Westfield in the usually very close 2B kit car class, from second placed John Caldicott's Caterham.
3a saw the Nova of Laurence Bond also taking a comfortable win from the Mini's of Stuart Gadd and Stuart Ballinger, 2nd and 3rd respectively.
The large capacity Mod Prod class, 3b, went to the Clio Sport of Matt Frost, from the 106 of Liam Ulyatt. Dave Bennett's MX5 was 3rd, and the "Spirit" of Sprinting came to the fore as a group of competitors all helped push Dean Ratcliffe's Metro GTI all the way down to the start and back to enable him to get a timed run in, and score points, after his clutch failed in practice!
Mark Williams won class 4b in the "family" Westfield Megabusa, which also deservedly picked up the Best presented car award.
FTD went to John Loudon in his Force HC with a time of 54.15sec.                    
A big shout for last year's Championship runner up, Metro GTI pilot, Owen Cule for doing a splendid commentary job, despite a temperamental tannoy system,  and to Andrew and Anita Chesterton who volunteered to assist the new Marshalls at the start for the afternoon timed runs.
 With the Championship entries now up to 63, after 2 rounds the top 5 looks like this:
Laurence Bond          41.5
Craig Tock                  41
Martin Roberts           39
John Caldicott            39
Championship Results 2019 Round 2
I hope to see as many of you as possible at the SDCC event on May 26th.
                                         Steve Wood  
If you require more information please complete and submit the form below: